Elevate Everyday Style with a Diamond Pendant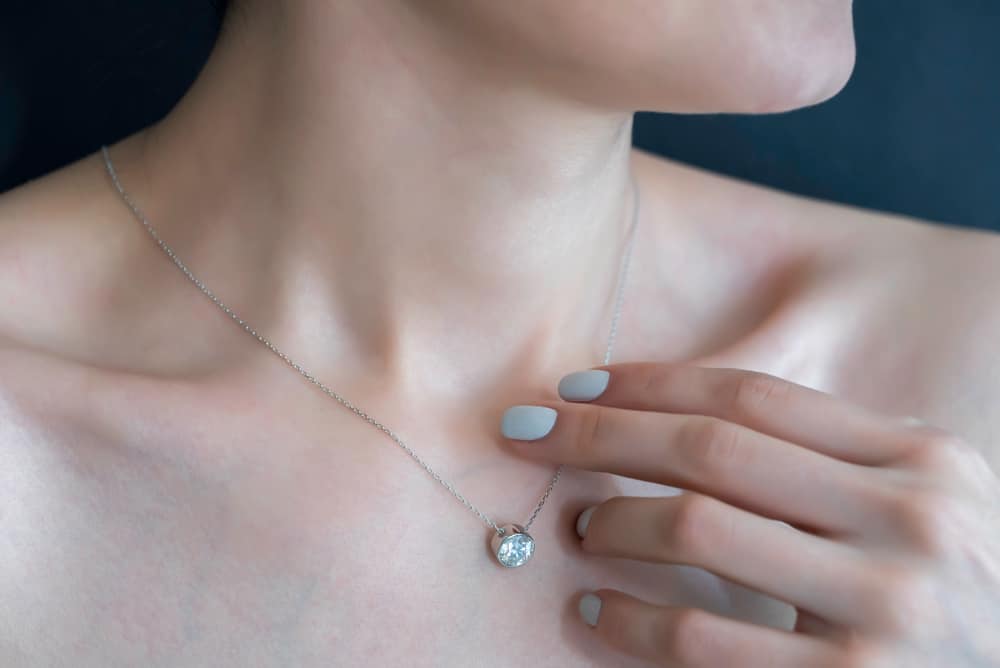 Diamond Pendants shine as radiant pieces of jewelry in the realm of fashion. It holds the ability to transform everyday look into something extraordinary. With their captivating and enduring charm, they possess the power to elevate and enhance everyday style effortlessly and give a touch of elegance and sophistication. 
No jewelry is as flexible as a diamond because it can be worn with necklaces, anklets, amulets, and bracelets. It enhances the appearance with a touch of royalty and charm. Not just this, pendants are symbolic of true, eternal, and endless love.  
Read this article to understand why wearing a diamond pendant can enhance your beauty; know when to wear it, and learn how to take care of this exquisite piece to ensure its lasting beauty. 
Significance of wearing a Diamond Pendant 
Wearing designer diamond pendants instantly adds a touch of glamour. The sheer brightness of diamond pendants can draw attention. Whether you're wearing a diamond pendant mangalsutra with a saree on a family occasion, or a diamond pendant on a fine chain with a classic black dress for a ball party, the pendant becomes the focal point of attention and can leave a lasting impression. 
Displays Effortless Sophistication 
Diamond pendant holds the ability to display sophistication with minimal effort. Wearing this piece of jewelry shows a statement of luxury and glamour. It elevates your look without making it look over the top. Moreover, the pendant's graceful presence adds an air of confidence and grace to your overall personality. 
Beyond visual appeal, it also holds sentimental value. Diamond pendants have a rich symbolic significance. They represent love and affection, wealth, status, power. Thus, they are an evergreen gift.
When to Wear a Diamond Pendant 
The most remarkable quality of a diamond is its versatility. It effortlessly complements various styles and allows you to carry any outfit confidently. The diamond pendant flawlessly grabs attention and admiration from a casual outing to a business event, or family occasion.
Carry elegantly with Office Wear
Why should your office outfit always be formal, when you can carry a sophisticated look? A decent combination of fine gold chain with a small diamond pendant can go with any outfit, be it a formal dress, shirt and trousers, or a salwar kurta. However, never choose an extremely flashy pendant in the office as it may defeat the purpose. 
Fashionable pendants are stylish to wear on casual outings. Meeting your friends over dinner or attending a friend's party, a fashionable diamond pendant will make you stand out from the crowd.
Festive Occasion or Family Function 
India is home to numerous festivals, and it is that time of the year, when you can flaunt your style. A heavy jewelry set of necklace, bracelet, and earring goes extremely well with a saree, lehnga, or salwar suit. It adds a finishing touch to a woman's attire and the overall look.
Whether going on a romantic date or celebrating an anniversary with your beloved, pendants can bring a unique charm to your look. A diamond Pendant is a perfect choice to add glamour and also attract your partner's attention. 
Diamond Pendant Care Tips to Ensure its Longevity 
Diamond is a lifetime investment and holds sentimental value. It requires proper care to maintain its longevity. Following these steps can ensure that diamond pendants last long.
Always clean your diamond pendant with warm water, a soft brush, mild soap, and a microfiber cloth to keep it shiny and bright. 
If you are not wearing the pendant, always ensure to keep it in a box. 
Avoid Wearing during Activities  
Avoid wearing the pendant during activities such as swimming, sports, and gymming, as the harsh water and sweat may make it lose its actual shine. 
Conclusion 
Whether worn with traditional attire or formal clothing, a diamond pendant adds a touch of glamour, effortless sophistication, and confidence to your appearance to elevate your overall look. Remember, it requires proper care to maintain its endless shine and ensure its longevity.